MID-CENTURY MASTERPIECE: 69 Mountain Avenue, West Orange NJ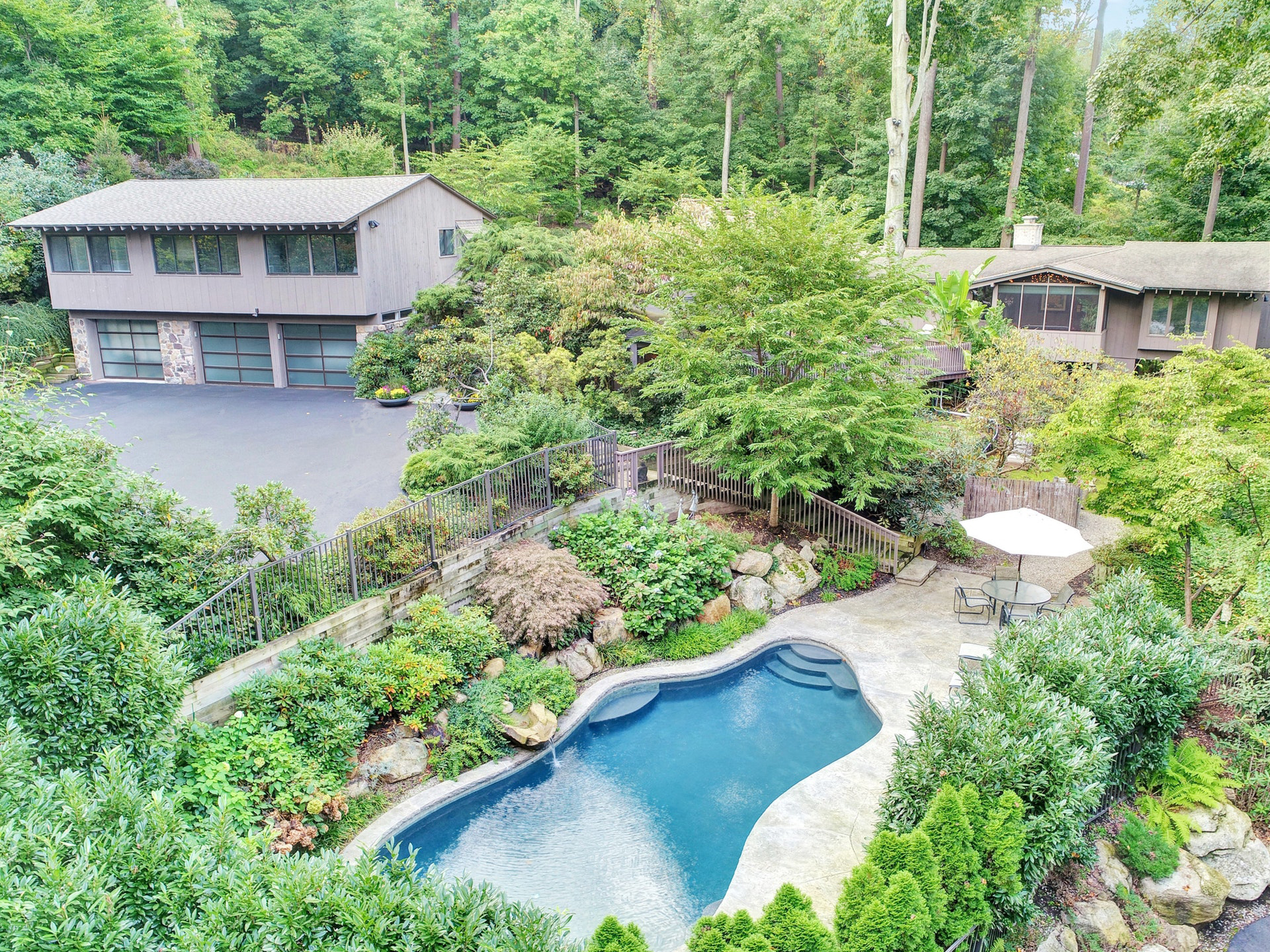 Mid-Century Modern Meets Modern Luxury! A rare opportunity to live in an amazing piece of art. Tucked away in a private enclave and truly special in every way, this home will not disappoint. Designed by noted architect William Hunt, the clean simplicity and contemporary lines of this home are reminiscent of Frank Lloyd Wright, where architecture and nature complement each other. A beautiful textural blend of slate/wood floors with walls of fieldstone, teak and glass make this a very special residence.
This home is currently an Exclusive Listing of the NJ Luxury Real Estate Group. Please contact us at 973-477-2220 or info@NJLRE.com for more information.
DIGITAL BROCHURE
Click here to view a digital brochure for this property:

This digital brochure includes photos and a description of the many features and amenities offered by this beautiful home. If you would like to receive a paper copy of this brochure, please contact us at 973-477-2220 or info@NJLRE.com.
VIRTUAL TOURS / INTERACTIVE FLOOR PLAN
Click here to access a virtual tour for this property: 69 Mountain Avenue Virtual Tour
In this virtual tour you will be able to walk through the home, see the floor plan, arrange furniture using the floor planner and even view an area map.
PROPERTY OVERVIEW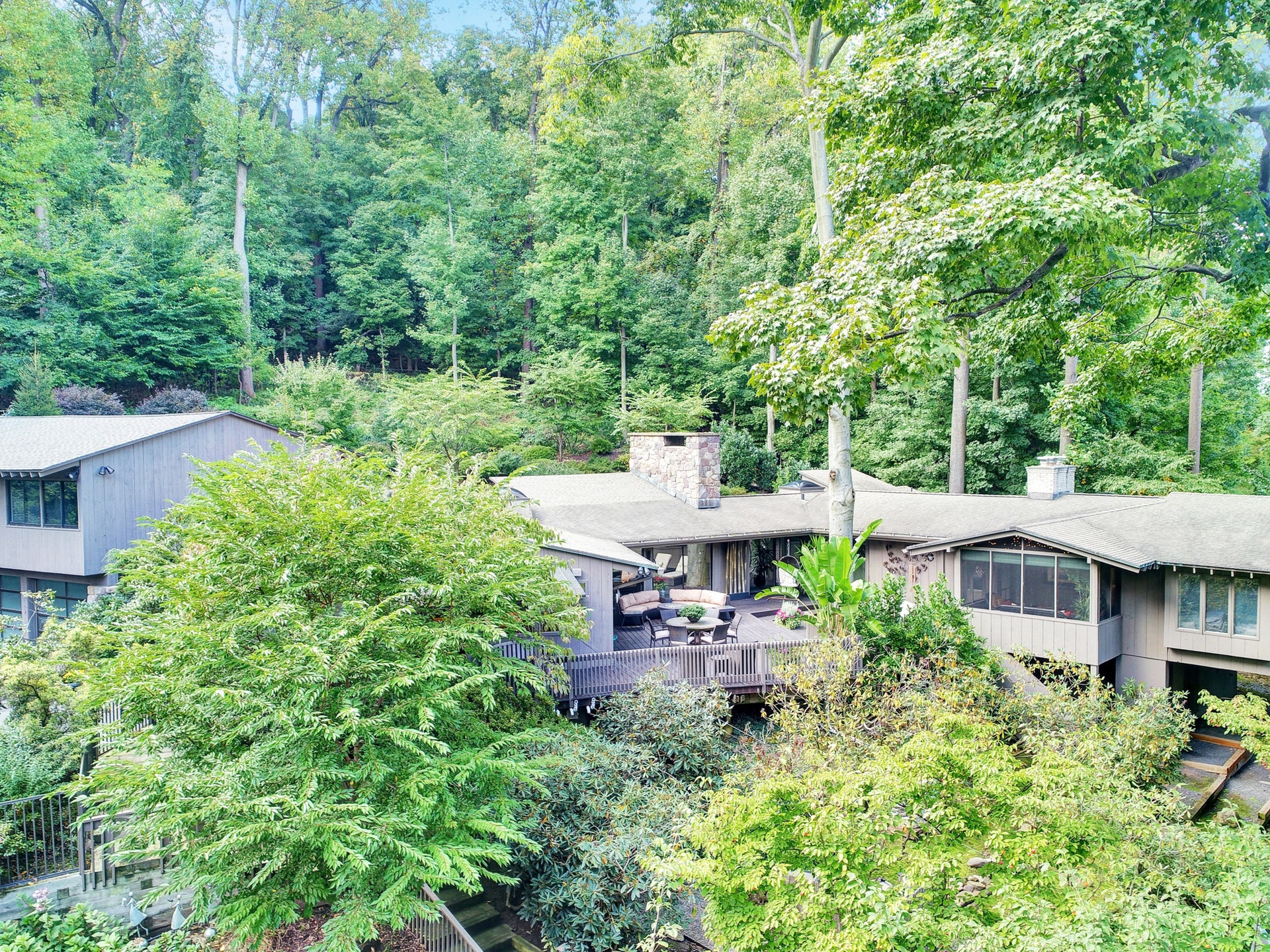 This stunning home exists in complete harmony with its surroundings, reflecting the contemporary style of Frank Lloyd Wright that is characterized by the clean lines of its sleek geometric planes, giant glass windows and high ceilings, the artful marriage of steel, stone and wood, as well as expansive open spaces that bring the outside elements in.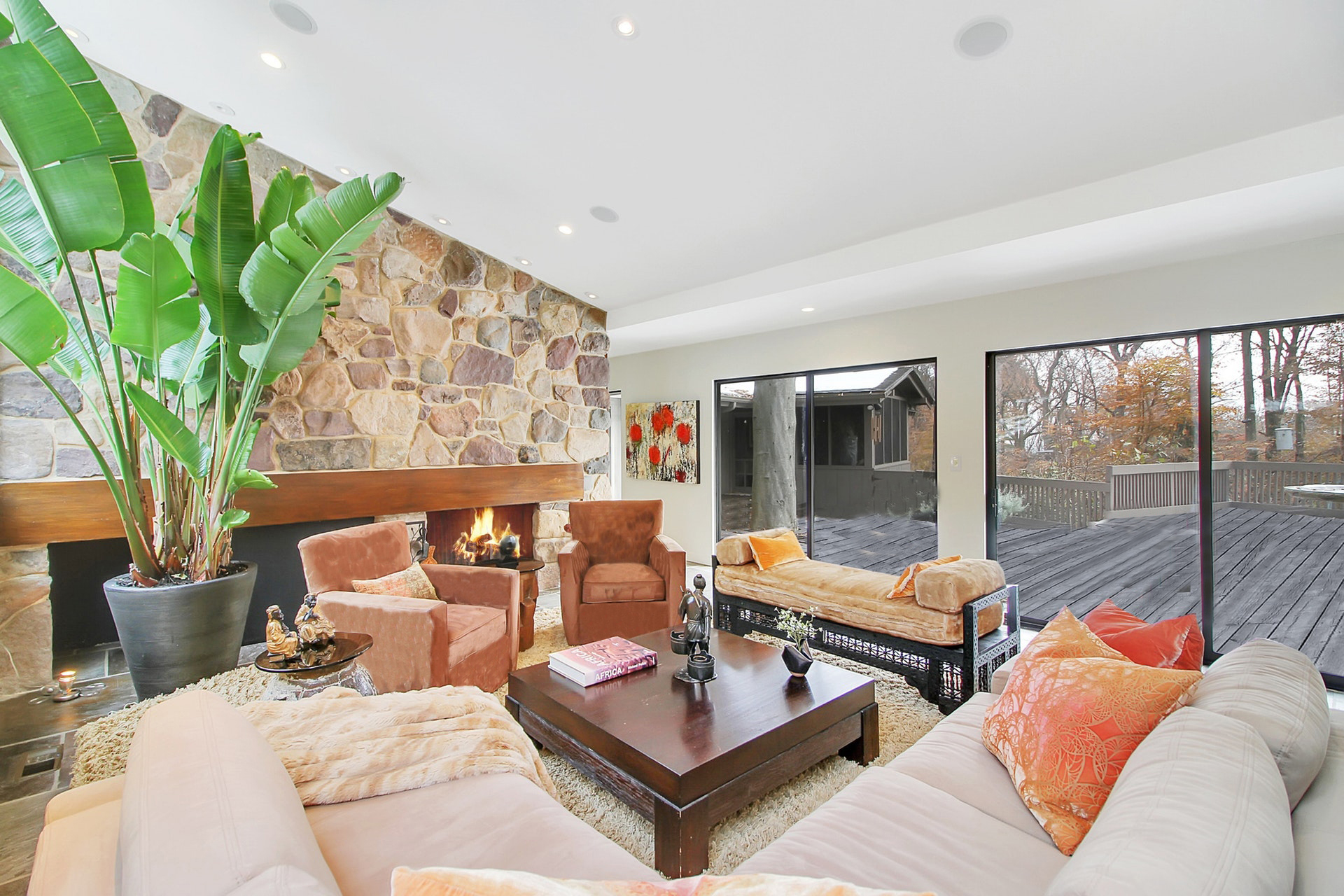 Designed by noted architect William Hunt, this home is the quintessential integration of art, architecture and nature. Glass walls along the eastern side of the home afford magnificent views and an abundance of sun, while a bank of glass across the rear of the home frames a secluded center patio set against a tiered garden backdrop. An open concept floor plan creates a sense of space and fluidity, with a textural blend of slate floors, walls of fieldstone, teak and glass present in each room.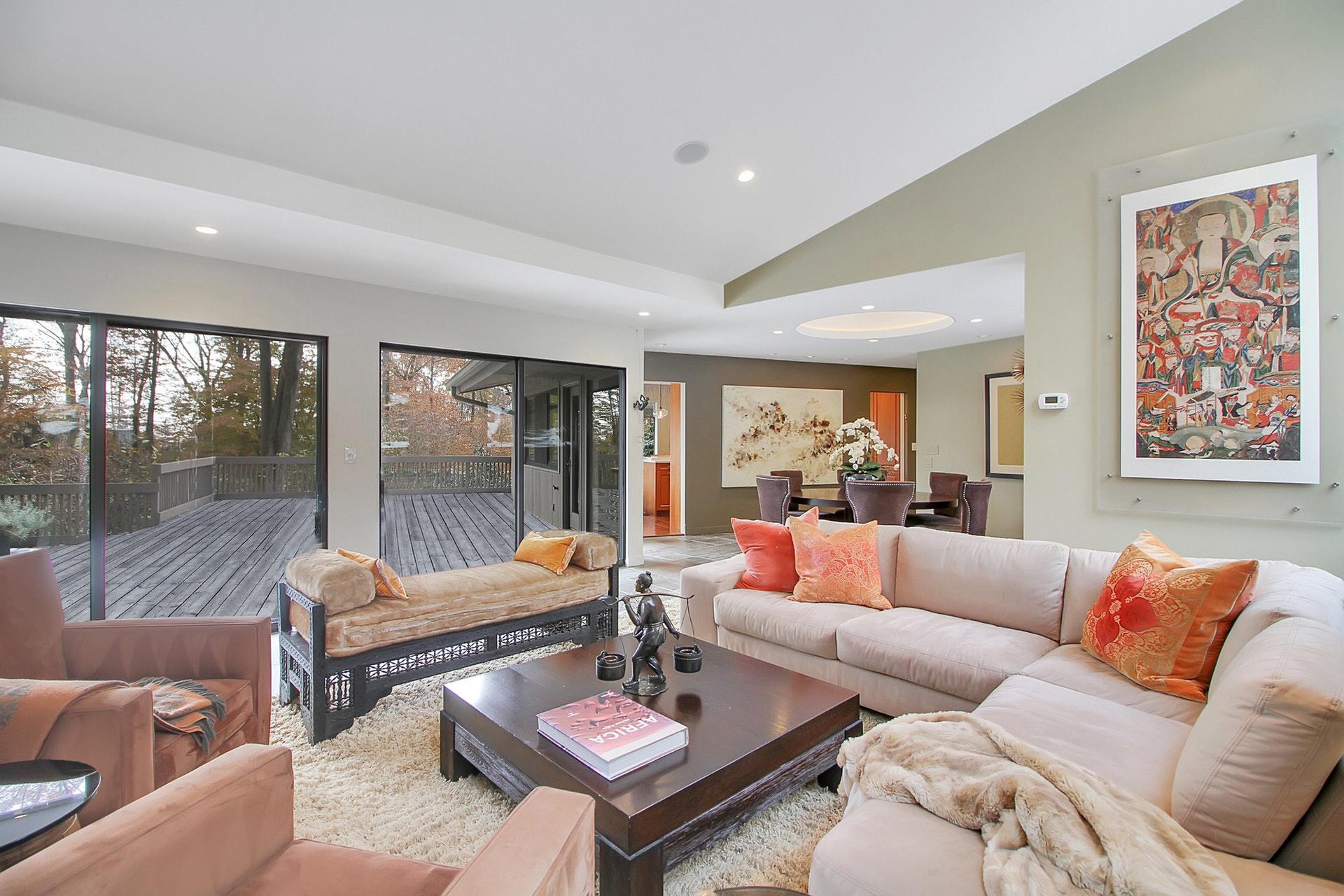 The dramatic living room with front and back views features a fireplace embedded in a wall of stone that creates a dramatic focal point in the space. The main living spaces also offer access to an elevated wrap-around deck that extends out over the breathtaking grounds below and beyond.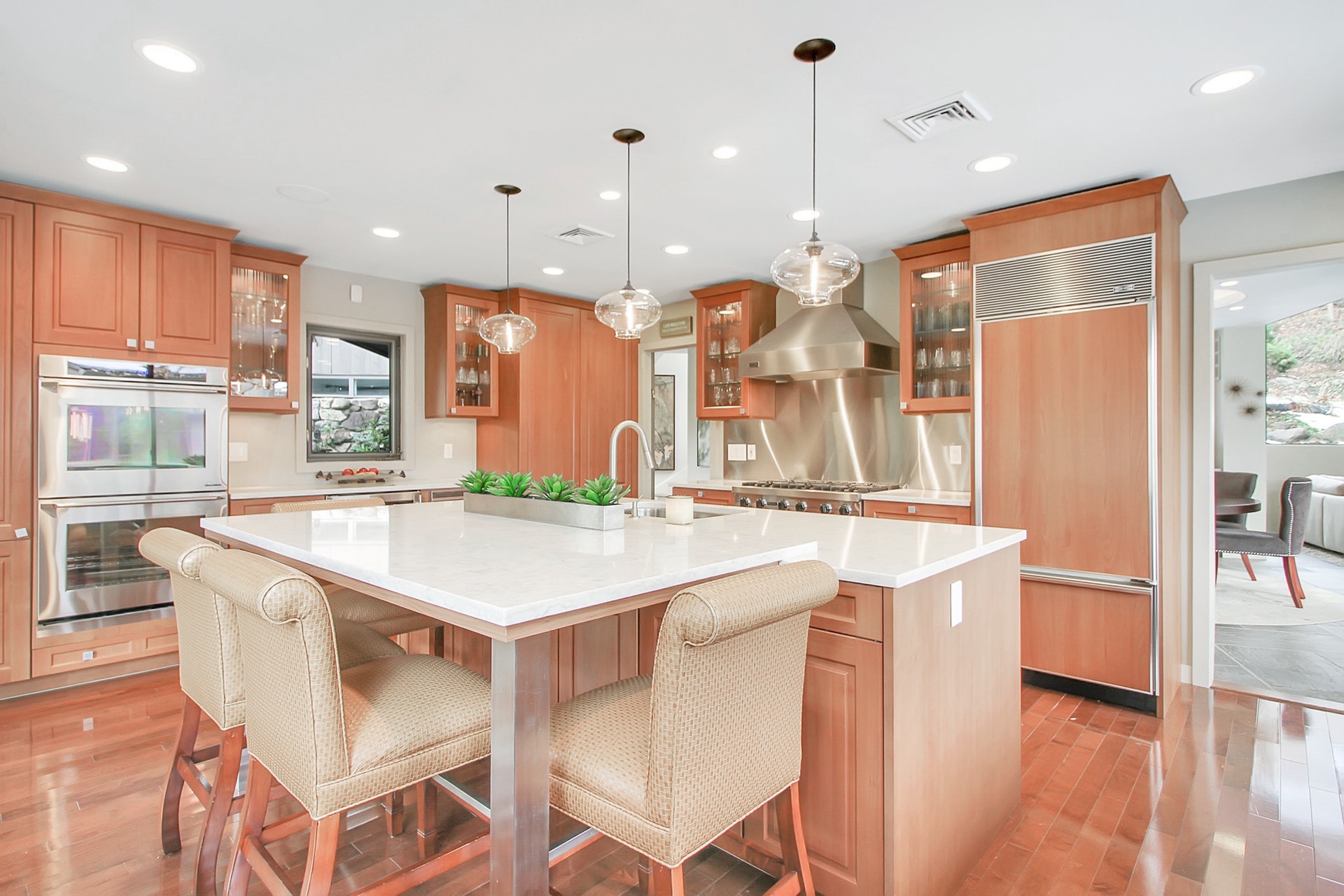 The kitchen is dressed in crisp cabinetry with quality appliances, anchored on hardwood floors. A nearby 3 car garage has a separate entrance from the parking court for easy access. A second floor guest wing offers three additional bedrooms, two additional baths and a private balcony overlooking the rear property.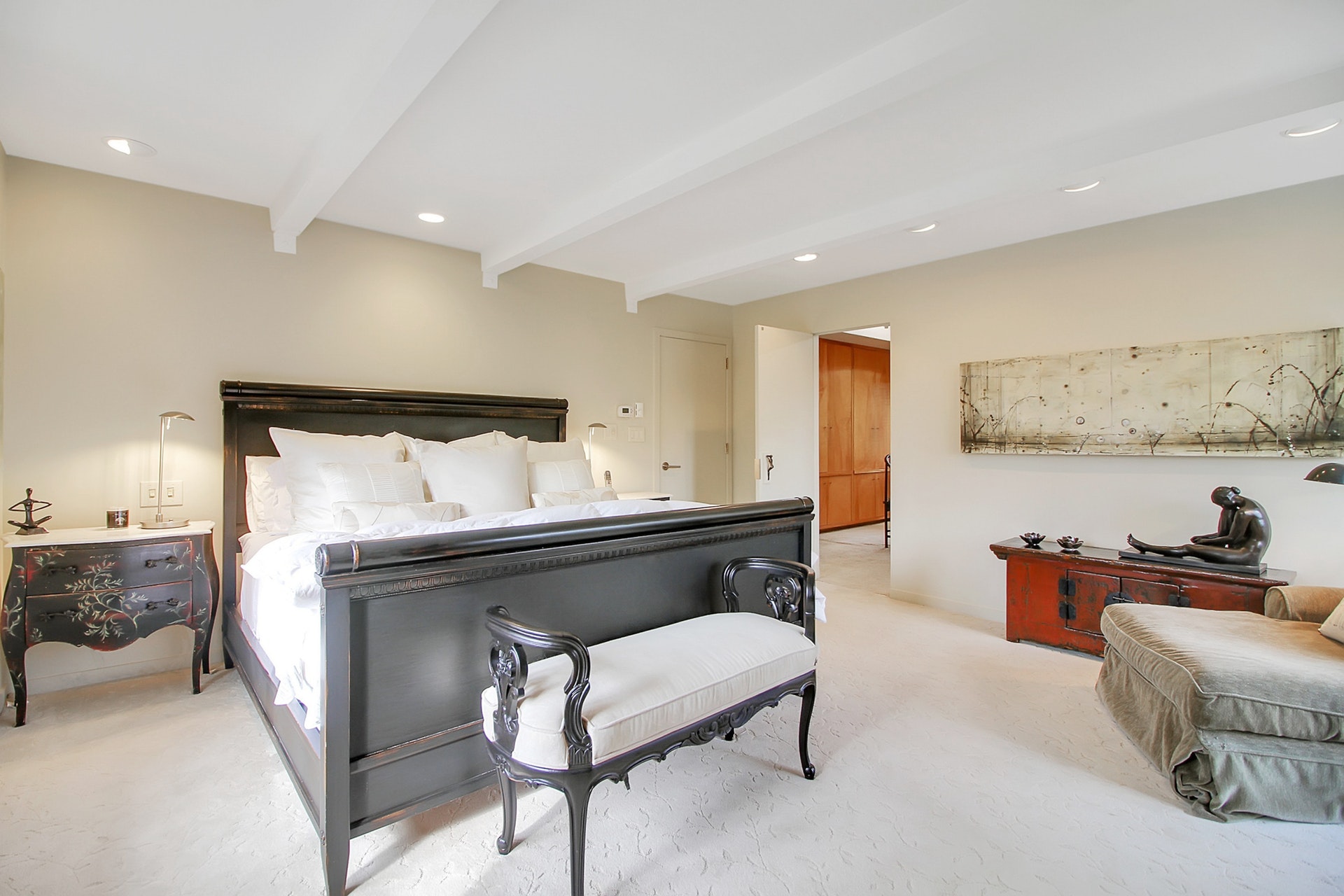 The master suite is set on a wing of its own, with stunning views of the mature greenery -- the perfect space to relax after a long day.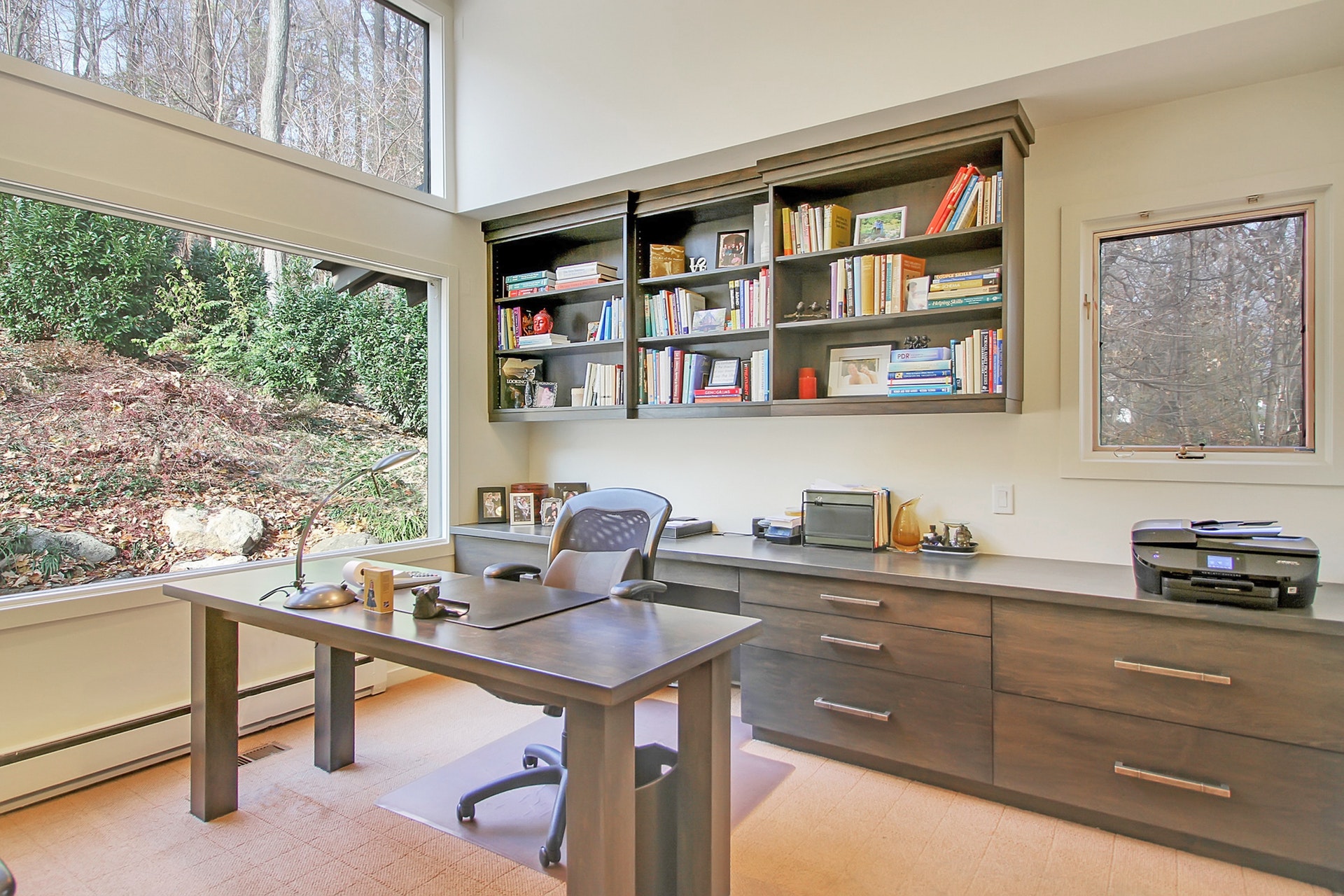 A nearby cozy home office/den with built-ins and walls of floor to ceiling windows add cachet.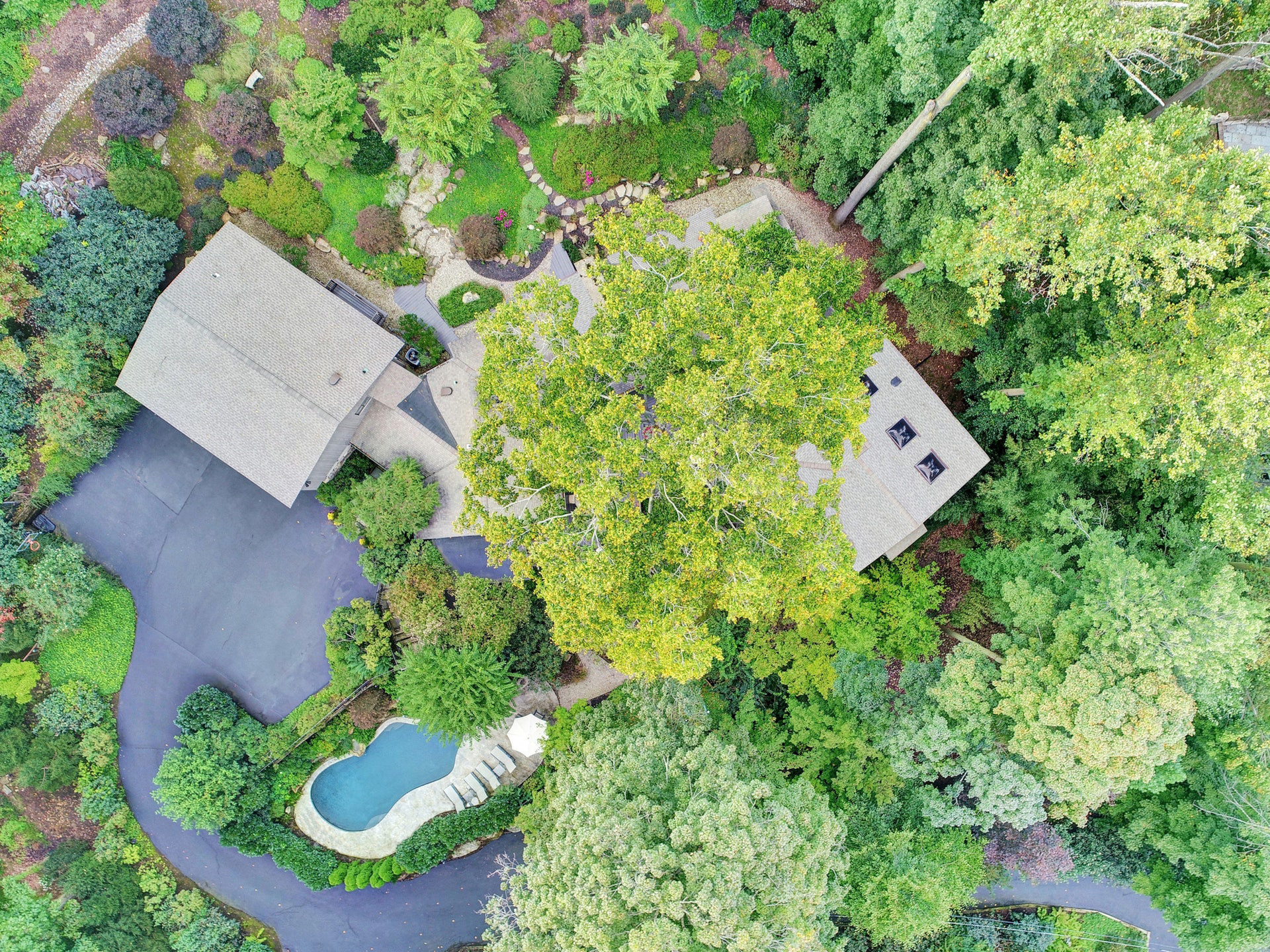 Set on nearly three acres of totally private grounds, this unique home is a fabulous hidden gem.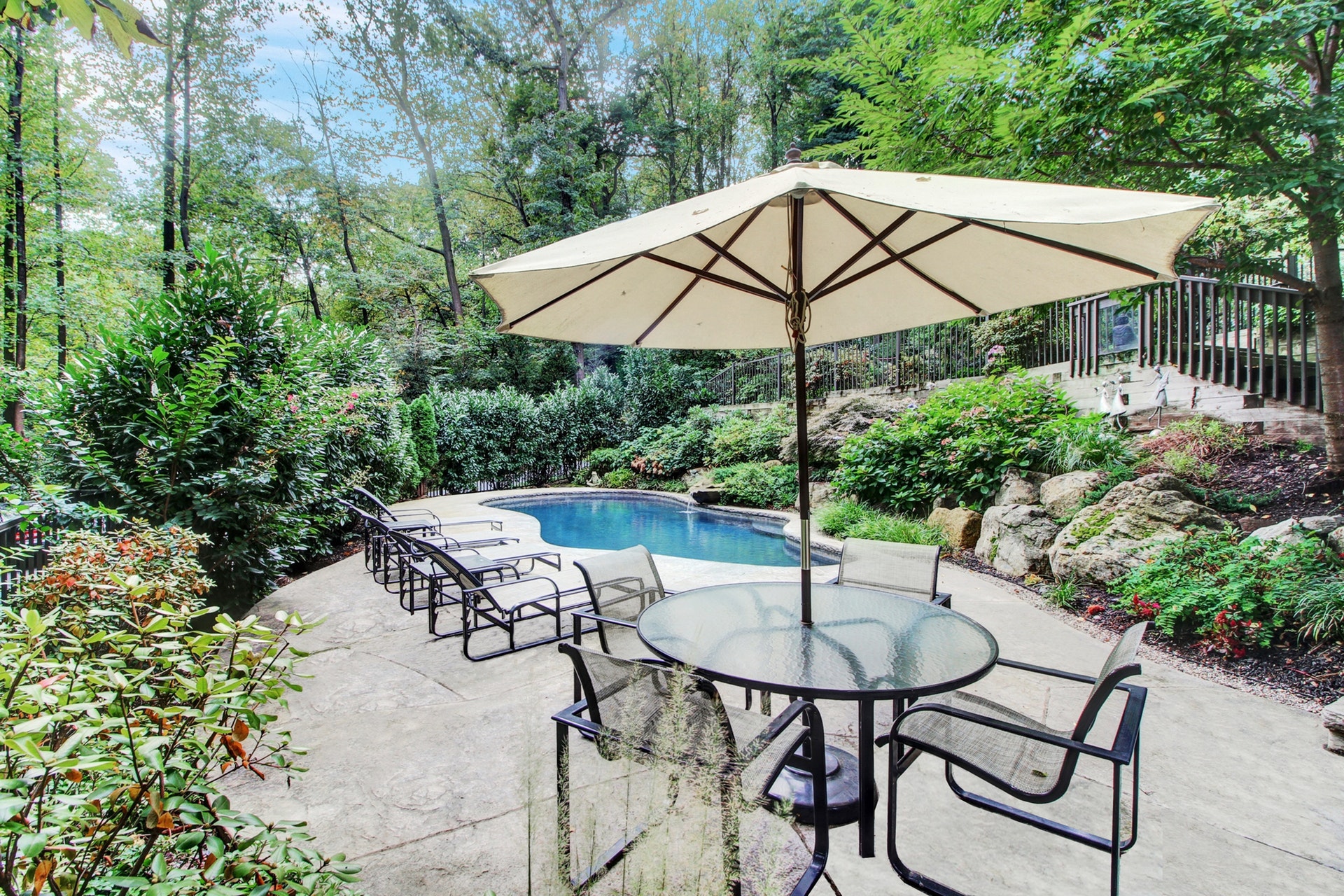 With a beautiful free-form pool set in a lush tranquil setting, there isn't a better way to begin or end a summer day. The expansive wrap-around desk is easily accessed from many rooms and offers ample entertaining space for large parties or small gatherings with a few friends.
PROPERTY DETAILS
OVERVIEW
This home features everything home buyers want today and more:

Mid-century modern architecture, designed by noted architect William Hunt
Landscape designed by James Rose
Breathtaking & private setting
Prestigious Llewellyn Park neighborhood in a quiet, private location
Bright, sunlit rooms with soaring floor to ceiling windows and slate flooring
Flexible floor plan with 5 bedrooms, 4 full baths and 1 half bath
Expansive floor to ceiling stone wall with fireplace
Oversized master suite with walls of windows, closets and drawers, dressing room and luxurious bath
Extensive storage throughout
Outdoor entertaining on large deck spanning the entire home with stunning views of NYC and the expansive property
MAJOR IMPROVEMENTS SINCE PURCHASE
Here is a listing of just some of the many improvements made to the home over the past 5 years by the sellers:
2013

Stuctural: Removed and replaced first floor walls and ceilings (except kitchen and master bedroom) down to the studs and replaced with upgraded soundproof drywall.
Electrical: Installed all new interior and exterior lighting (front, pool and back). Brought up to code and removed old wiring. Majority of lighting converted to LED. Wired for sound system with speakers in Kitchen, Living Room, Master Bedroom and Master Bathroom, Screened Porch, Deck and Pool.
Pool: Installed a heated 30' x 15' free-form swimming pool with patio, custom organic rock fountain, perennial gardens, custom lankdscape lighting and custom metal fencing enclosing the entire front property.
Guest Power Room: A complete gut and renovation including custom undermount lighting, new exhaust system, pendant lighting, new cabinetry, full wall mirror and vessel sink with custom plumbing fixtures.
Master Bathroom: A complete gut, renovation and expansion. Added a large soaking tub and steam shower, custom opaque glass doors to shower and toilet room, installed two custom vanities with marble tops, new sinks and plumbing fixtures, full wall mirrors, glass tile in bath and shower/steam areas, all new lighting and ventilation.
Living Room: Vaulted the ceiling and stoned entire fireplace wall.
Kitchen: new double oven, added new tray cabinet, replaced sliding door to access porch area.
Dining Room: Replaced small window with large picture window and added custom accent LED lighting around the Dining Room skylight opening.
Laundry Room: Built an entirely new laundry room with custom cabinetry, new washer and dryer.
Master Suite: Reconfigurated and enlarged hall entrance, added custom glass etched door to dressing room and bathroom, created additional large closet opening to hallway, added custom wall niche for sculpture. In master bedroom, added a pocket door from the bedroom to the master closet.
Office: Upgraded smaller windows to picture windows, installed custom cabinetry with under mount lighting, install custom bookshelves and upgraded the closet.
Family Room: Added custom built-in cabinetry and specialty lighting.
Gym: Created an inspring space with custom Shoji doors.
Added extensive landscaping to back yard including landscape lighting throughout.
Removed 28 trees surrounding the home.
Installed central vacuum on the first floor.
Replace hot water heater.
Insalled new alarn system.
Installed all new underground sprinkler system.
Installed French drains in basement and garage.
Front Entry: Added art niche, additional custom art lighting, custom bamboo wall with lighting, new hand railing and added an entrance door to the second floor.

2015

Kitchen: Installed all new quartz countertops and increased center island size to accommodate more seating. Painted kitchen and installed new bamboo tile wall.
Created exit to backyard from gym with sliding glass doors. Excavated land in back of house and created a stone patio, custom gardens and built stone stairs to upper gardens.
Replaced wooden garage doors with modern opaque glass doors.
Added deer fencing around the entire rear property.
Replaced windows in entry hall.

2018

Sealed and patched driveway.
Stained and sealed front and rear deck areas.
Changed and added LED lighting to driveway trees.
SYSTEMS
Alarm system
Central vacuum (first floor)
Natural gas, built-in generator
Gas water heater
Three-zone heating and air conditioning:

Zone 1: Formal Areas of Home (Foyer, LR, DR, Kitchen, Gym)
Zone 2: Master Suite, Family Room and Office
Zone 3: Second Floor