HOME IS WHERE THE ART IS
Short Hills, NJ
When you love art, you are driven by an insurmountable passion to surround yourself with a collection that makes you smile each and every day. But imagine applying that same passion to building a home around your art that also makes you smile. A home that is as much a work of art as the artwork itself.
This is exactly what the owners of curated after purchasing a modest ranch in 1998. Nestled on nearly two lush acres in the heart of Old Short Hills, the house was transformed into a warm, comfortable Frank Lloyd Wright inspired home that became the perfect vessel for love, life and art. Thoughtful details throughout make art a natural extension of the home, while special features make daily living truly a pleasure -- a celebration of life through art.
Designed by David Estreich and Brian Blackburn of David Estreich Architects in NYC, in collaboration with Interior Designer Thomas C. Burger of Las Vegas, the home was renovated and enlarged into the masterpiece it is today -- a collection in and of itself. A new master bedroom wing, kitchen wing and rear pavilion were added in an unassuming way from the front, creating an interior space boasting nearly 10,000 square feet while also creating a delightful courtyard in the rear for al fresco entertaining.
The home's flowing design invites residents and guests to meander through its wonderful spaces. And what isn't seen is as impressive as the exquisite details that are. For example, radiantly heated floors throughout the entire home envelope occupants in warmth and comfort all winter long. It is a home that makes you want to linger and wander, rather than simply occupy it.
Architectural details throughout the residence remind you that you are part of something more, as if you yourself are also part of the art. Changing floor levels, ceiling heights and shapes create special rooms that all feel different yet cohesive. Lower ceilings in the gallery are offset by lower floors and higher ceilings in the great room, a barreled ceiling in the foyer, a soaring ceiling in the family room and a bi-level ceiling in the dining room. Unlike ceilings and floors in most homes, the ceiling and floor details are an intricate part of the design, drawing your eyes up and down and all around.
And while it may seem to have happened by chance, that was certainly not the case here. Lighting, windows, wall shapes, moldings, ceilings, floors, built-ins, seating layouts, angles and adjacent rooms were all taken into account during the home's transformation. Gutting the previous home was the only option to create the right spaces for fine art and sculptures -- so they could be experienced rather than just seen. Even the baths and kitchen were designed as works of art, with an oval bath for "her" featuring curved walls and even a curved shower door that were all painstakingly designed to perfection.
As with any home inspired by a Frank Lloyd Wright design, the interior and exterior spaces are at one with each other -- bringing the exterior in and allowing the lush landscaping to be the backdrop, the canvas, for a life well-lived. A large free-standing pavilion in the rear of the home is the piece de resistance of the exterior. Made of stucco, metal, glass and screens, it offers a comfortable enclosed seating area in which to enjoy warmer weather with panoramic views of the courtyard and gardens. The structure appears as if it was always an integral part of the property.
And that is what is so special about this home. The thought put into each interior and exterior "room" is so unfathomable, so immeasurable and so incomprehensible – resulting in a design so cohesive, so striking and so spectacular that should just one surface of a room go missing, the entire design would fail. It is as if each room is a puzzle piece, working in conjunction with one another to create an overall masterpiece.
FLOOR PLAN
Click here to access the floorplan.
PROPERTY OVERVIEW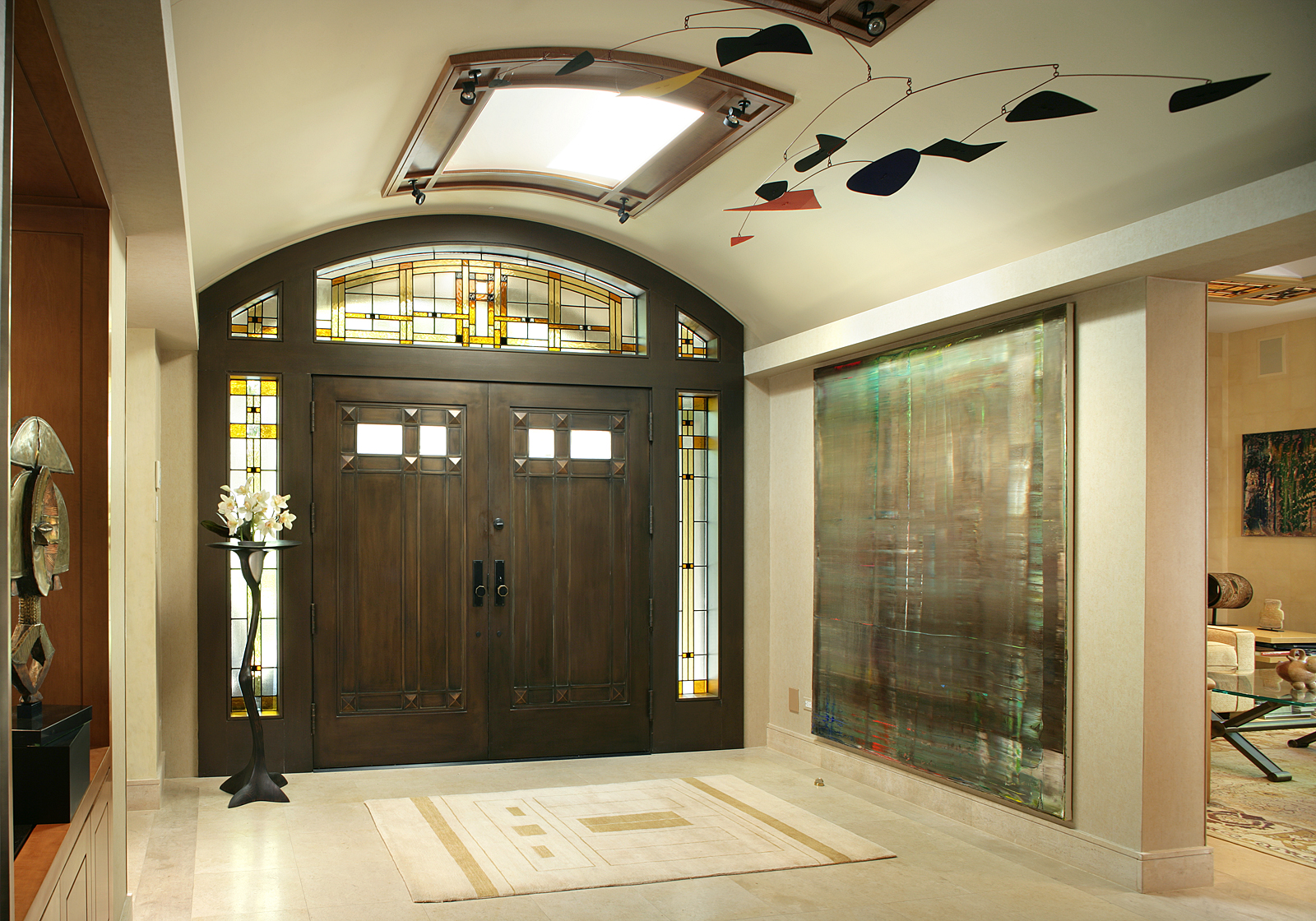 Sun pours through the barrelled ceiling foyer by way of a framed skylight highlighting an Alexander Calder mobile. The entry doors are custom made of bronze and framed by stained glass sidelights. The current owners opted for a natural color palette on the Venetian stucco walls and French limestone floors to set off their art collection. The start of a meandering floor plan, the foyer sets the stage for what is to come.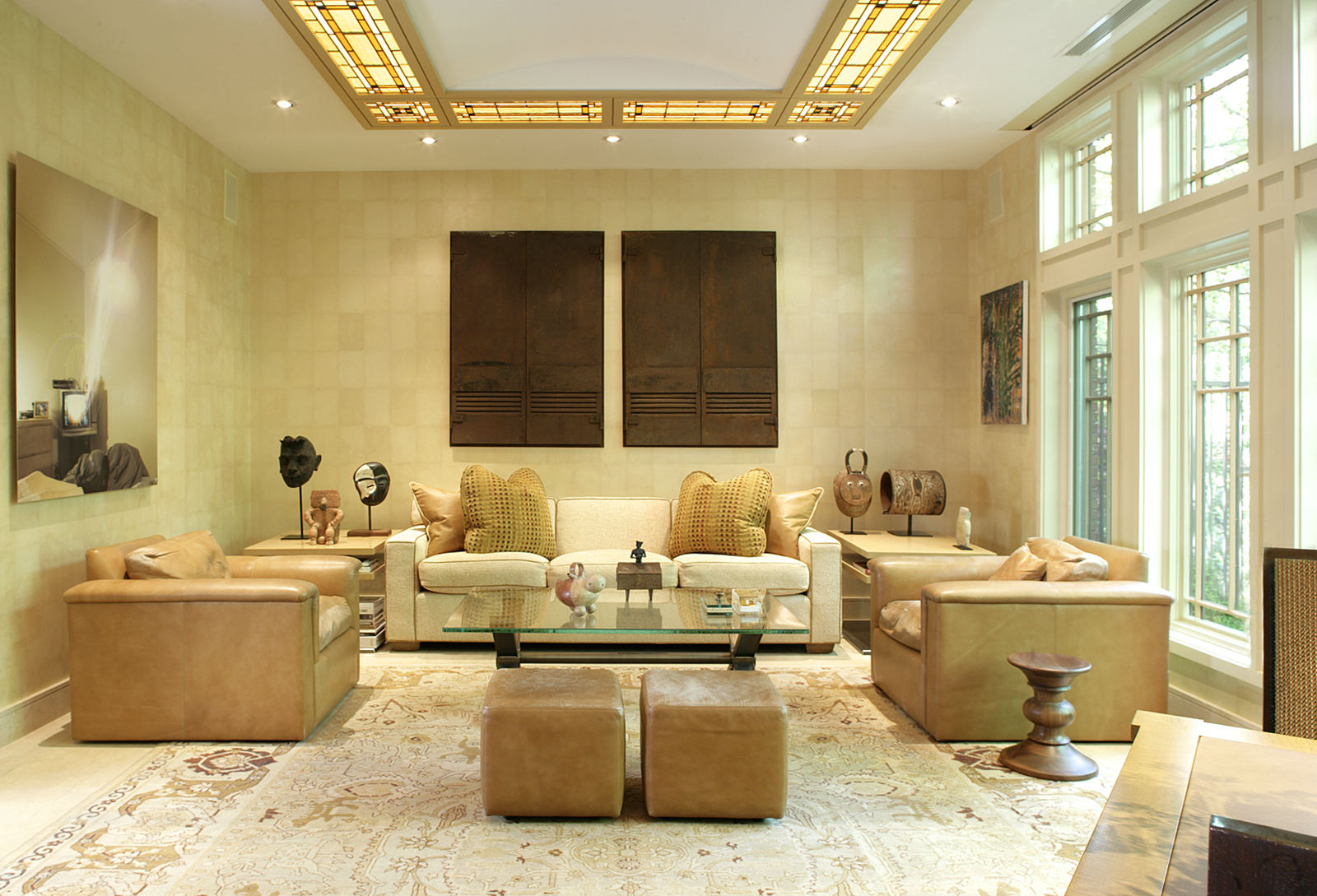 The family room features a Frank Lloyd Wright inspired stained glass ceiling. Here one also finds custom designer wall treatments and artwork lighting strategically placed throughout the room. Floor to ceiling windows accentuate the high ceiling height while a sycamore wood cabinet is the perfect home for even the most extravagant sculpture. Outside the room's large windows is an enclosed sculpture garden for those pieces which may be too large to fit indoors.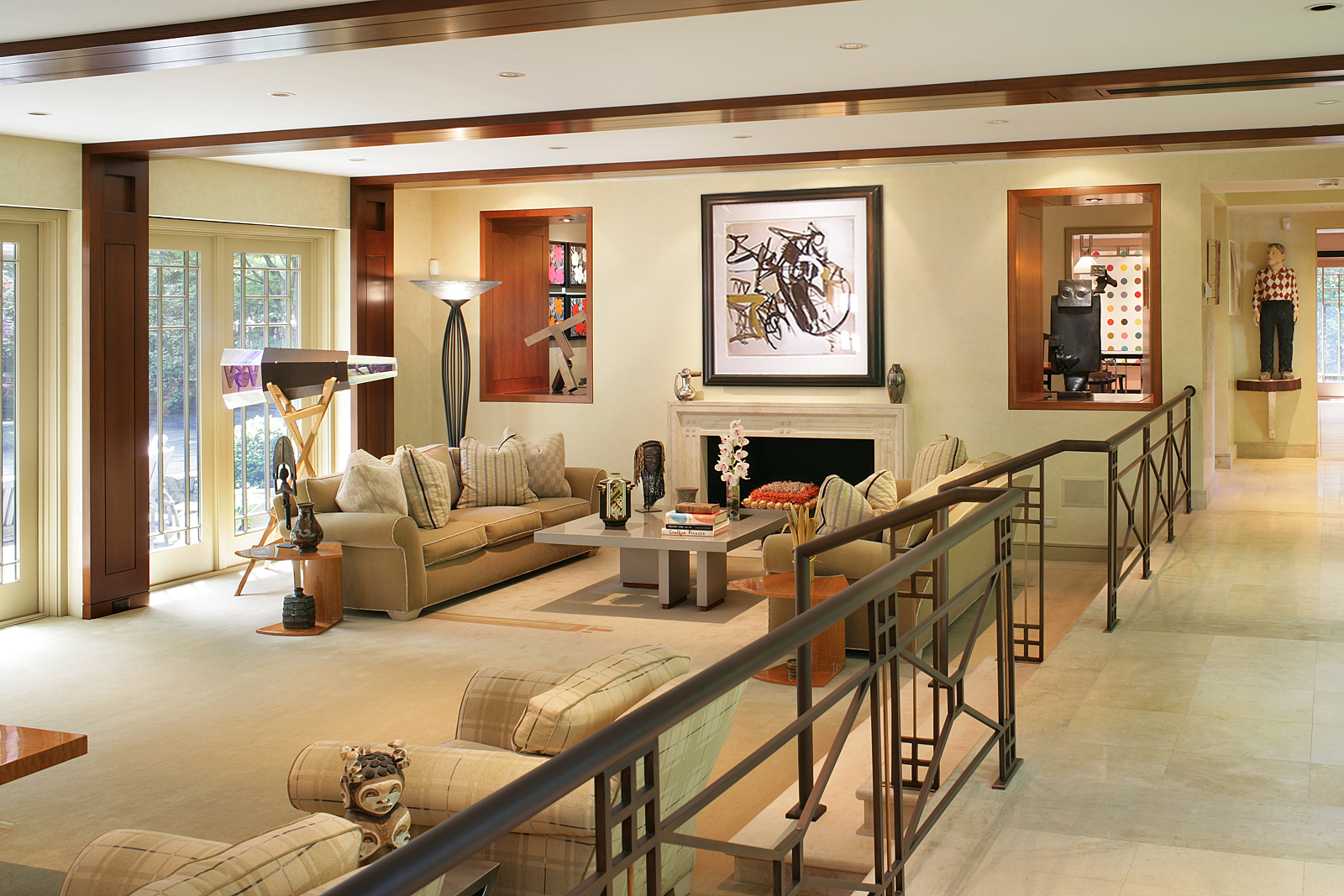 The home features a wonderful flowing layout designed to invite occupants and guests to appreciate the art within. An open gallery leads to the sunken great room, tied together by stained cherry pilasters and beams. The room is also adorned with a custom limestone fireplace that is non-functioning so as not to harm precious artwork in the room. A custom bronze handrail separates the gallery from the great room. Large cutouts between the great room and dining room extend sightlines and while also providing additional platforms for art.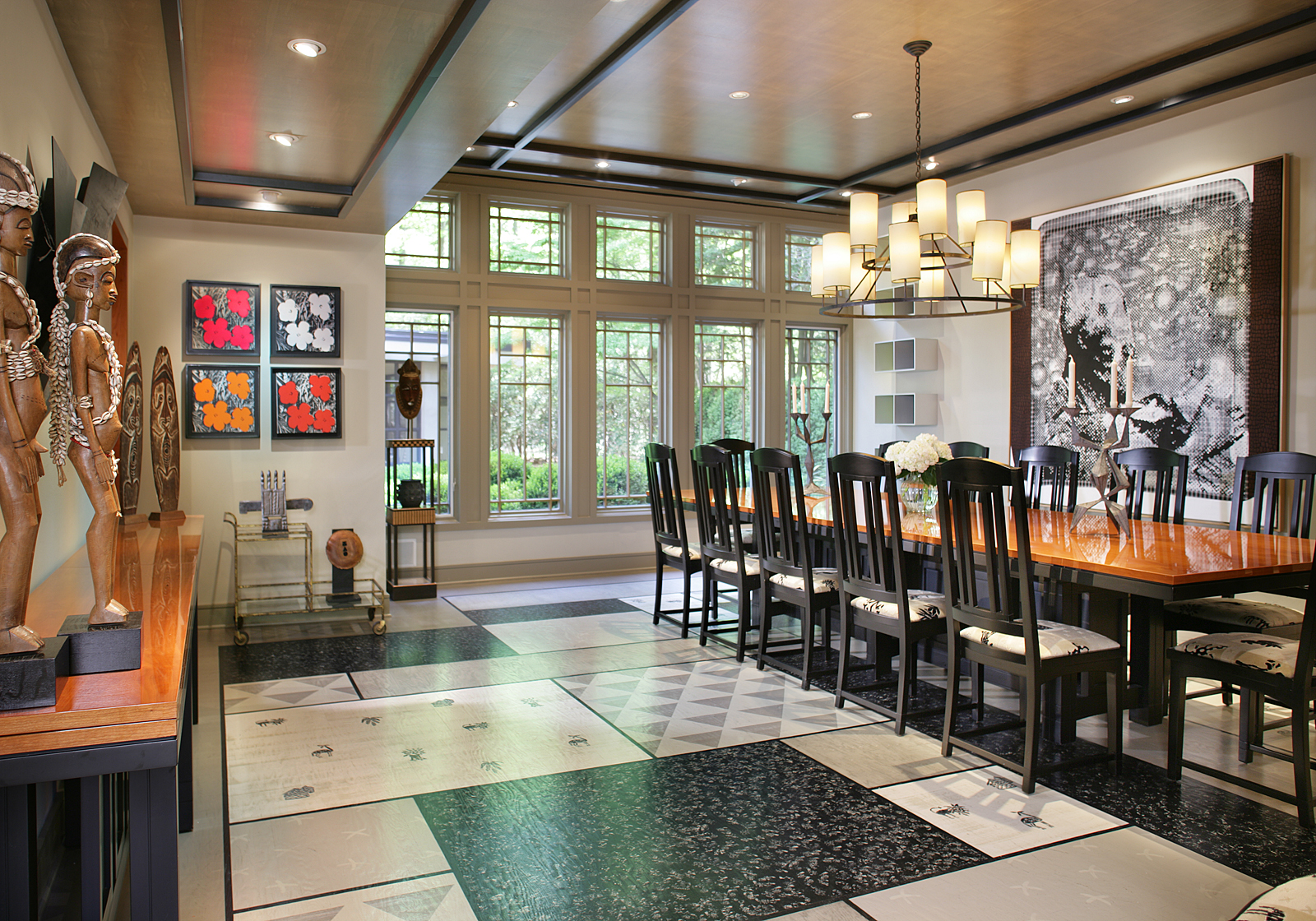 To accommodate the current owners' extended family and friends, as well as to accommodate large-scale artwork, the formal dining room was enlarged in both footprint and height to become an airy gathering space. The wood floors are stenciled and complement the chair pattern. The lighting was custom designed by late French designer Jean Royere.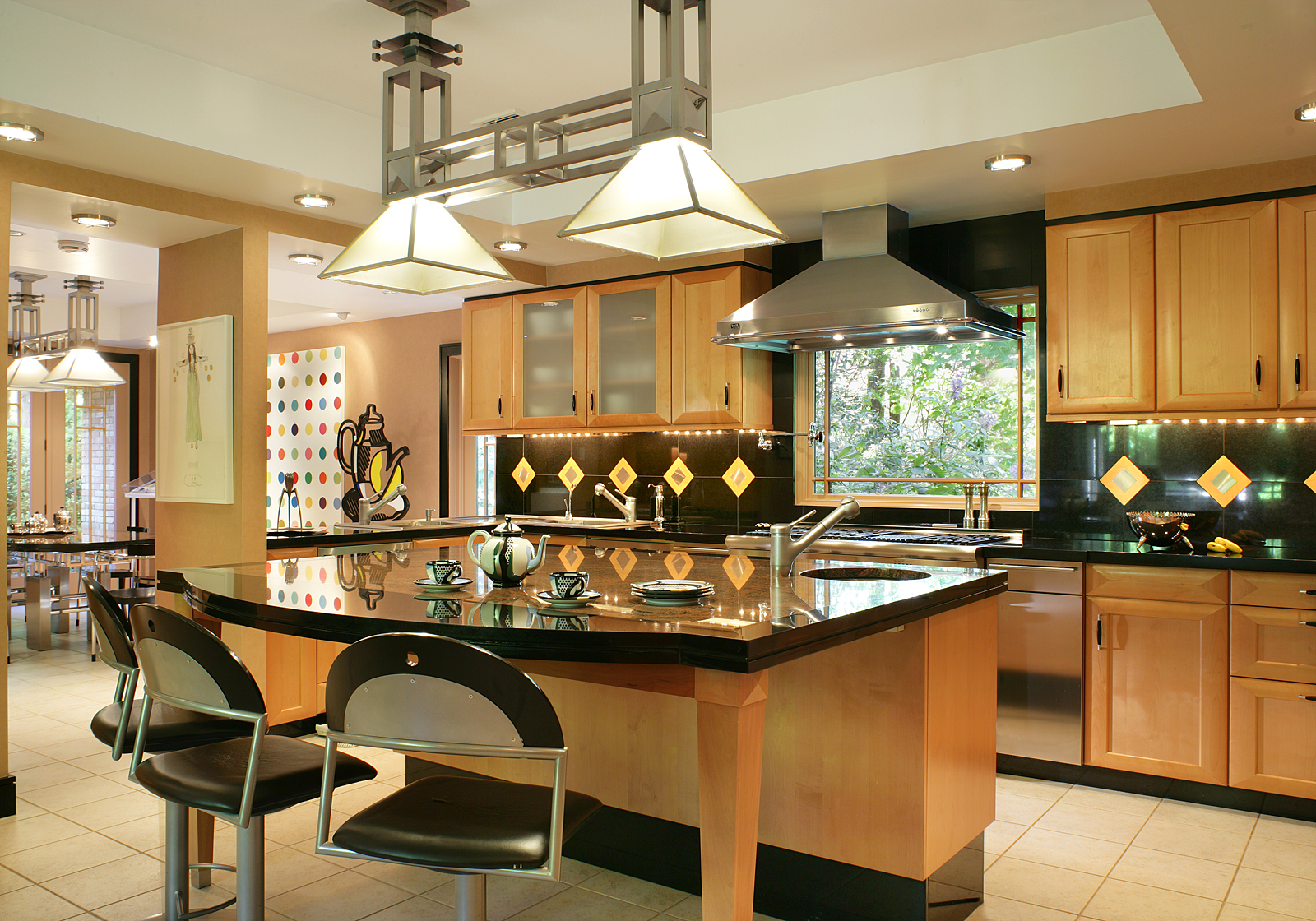 The home features a spacious kitchen wing. Here, an oversized pearwood island with black granite countertop sits under a contemporary chandelier designed by architect David Estreich and mirrors the design of the oven hood. The kitchen is one of the few rooms in the home without artwork so the current owners decided to blend architecture and artisanship. The gourmet kitchen features three sinks and top-of-the-line appliances for even the most discerning chef including a Thermador dual-fuel range with two ovens, Sub-Zero 42" side-by-side refrigerator/freezer, two Miele dishwashers and two additional Thermador electric wall ovens. A nearby butler's pantry features a fourth sink, ice maker and floor-to-ceiling Northland wine refrigerator.
The powder room off the foyer gallery is a work of art with perfect circular bands of sycamore contrasted with black reveals for a modern look. The marble flooring is complemented by both the sink and the border of the mirror. The round tray ceiling is a wonderful accent in a room that both residents and guests will admire.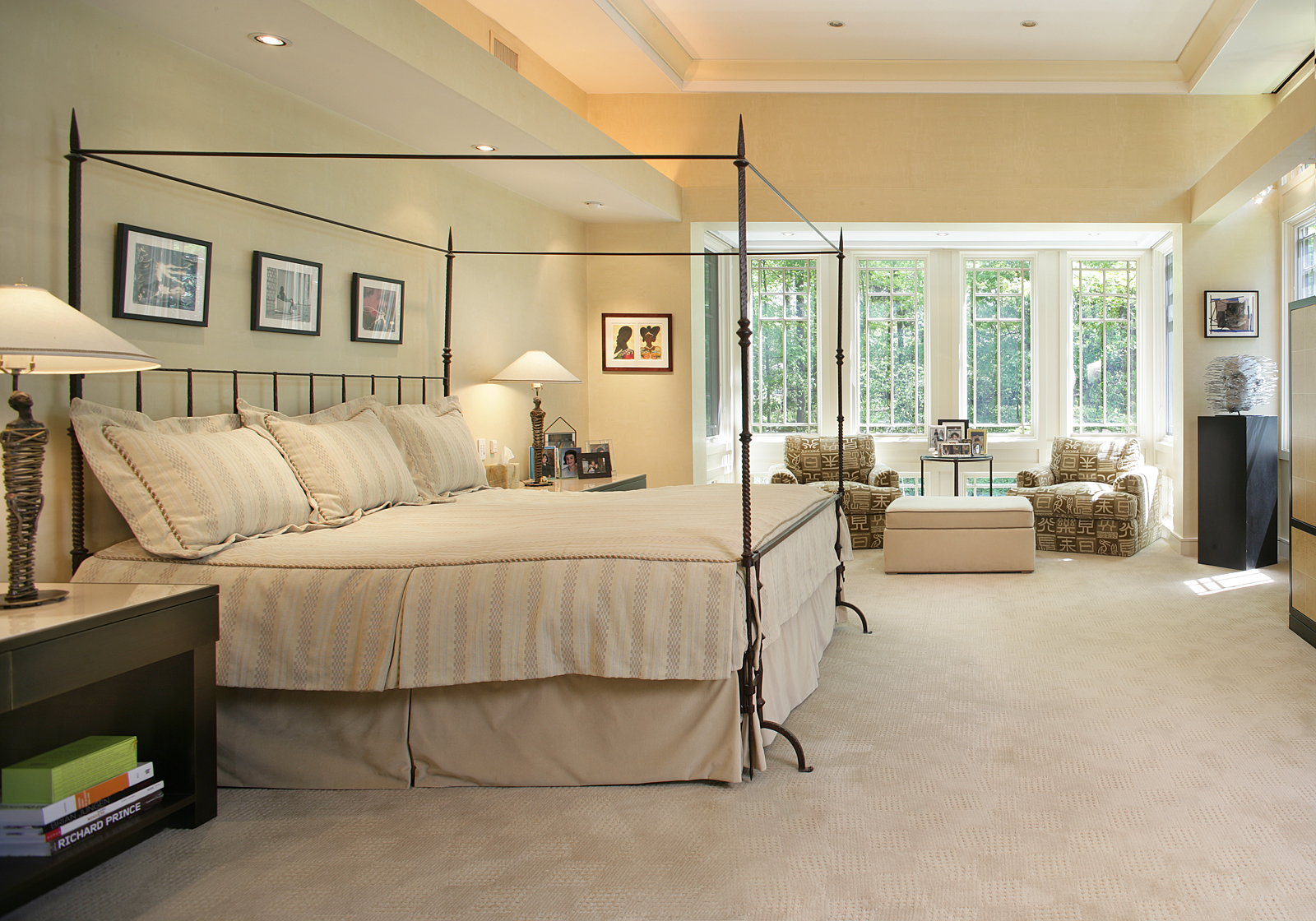 The primary bedroom suite is a light and airy space that faces the rear courtyard and offers sweeping views of the grounds below. The sitting area boasts windows similar to those in the dining room but reversed with large windows topping a row of smaller windows to provide a glimpse of the bluestone patio below. Various sources of lighting, including uplighting above the accent ceilings, provide a warm and inviting glow.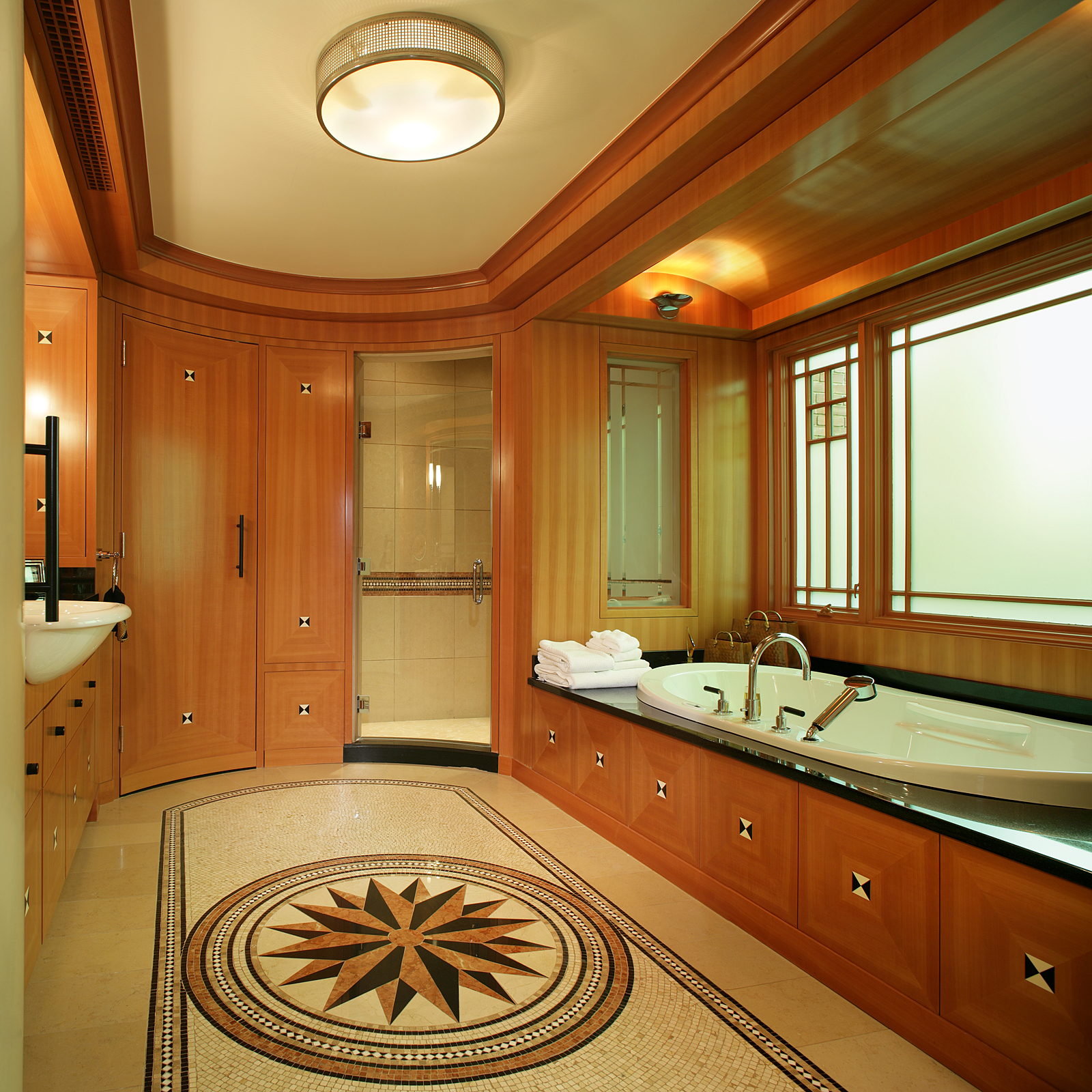 The primary bedroom suite offers two separate baths. One features curved walls and a mother-of-pearl inlaid floor. The mosaic pattern is picked up in the walk-in shower. A sandblasted picture window by the soaking tub offers privacy with one section of clear glass for a view of the trees beyond. Even the shower door is curved, demonstrating an unsurpassed level of detail and design.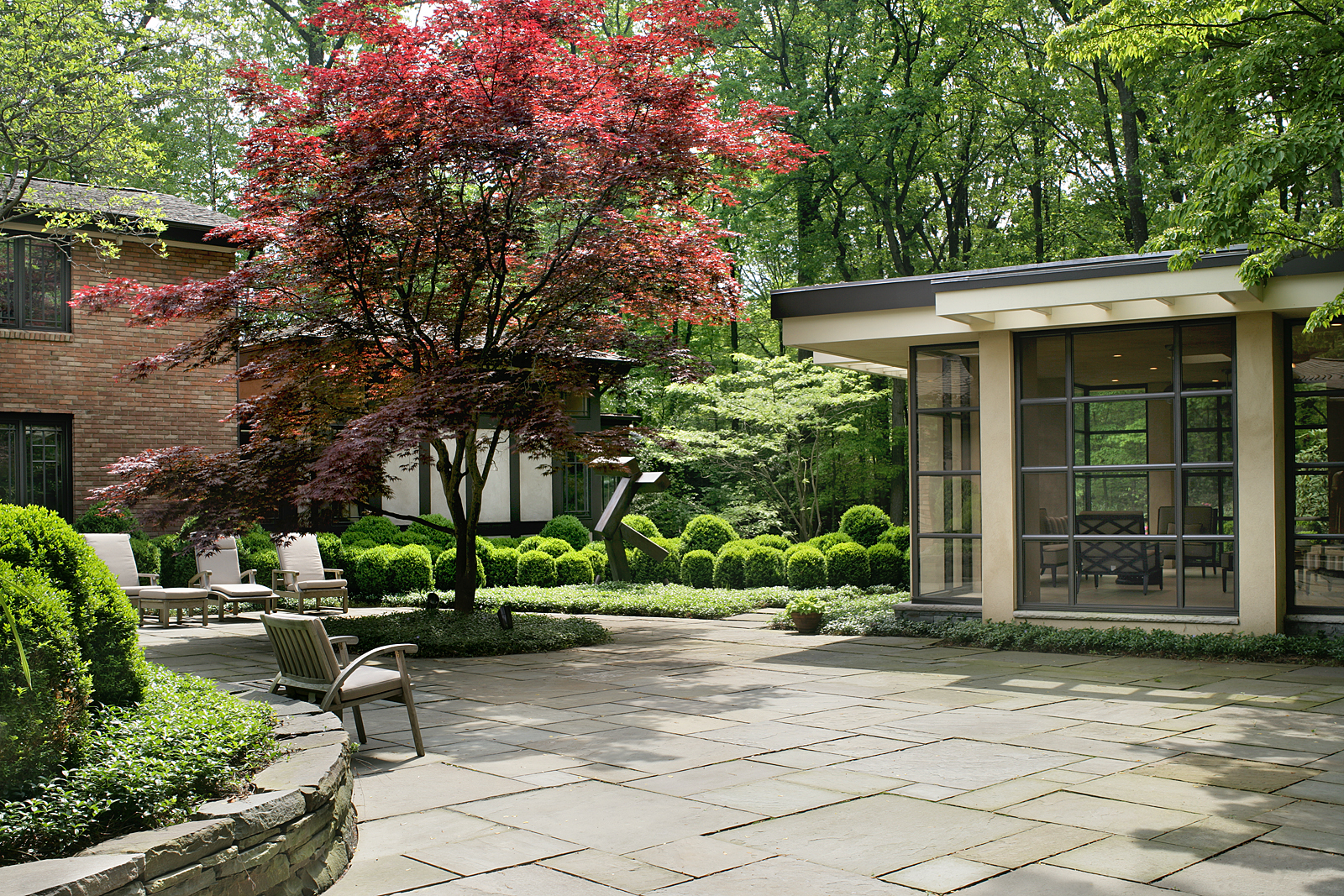 Outdoor living is exactly what one would expect from a home of this caliber. Two separate patios offer multiple areas for entertaining. A freestanding pavilion made of stucco, metal, glass and screens offers a wonderful enclosed seating area in which to enjoy panoramic views of the courtyard and gardens.
Step into this extraordinary masterpiece and let your creativity soar.
PROPERTY DETAILS
OVERVIEW
6 Bedrooms | 6.1 Baths
Stunning custom home featuring everything that home buyers want today and more:

Open concept floor plan
Floor to ceilings windows and doors
Abundance of bedrooms and baths
Flexible bedroom configuration
Luxuriously appointed custom baths
Year-round entertaining with expansive interior and exterior spaces
Fresh, modern colors and finishes
Sleek flooring
Finished lower level
Artwork lighting throughout
Custom light filtering window treatments throughout (Motorized in many areas)
Plenty of storage including walk-in closets throughout
Expansive property
Prestigious Short Hills school system
FIRST FLOOR
Entry Foyer
Custom Bronze Doors with stained glass sidelights
Barrelled Ceiling
Skylight
Alexander Calder Mobile
Family Room
Frank Lloyd Wright inspired glass ceiling
Custom designer wall treatment
Floor to ceiling windows
Sycamore wood built-in cabinet
Built-in gas fireplace
Front Gallery
Custom artwork lighting
Custom bronze railing
Wall of doors to front property
Great Room
Stained cherry pilasters & beams
Sunken to offer high ceilings
Wall of doors to rear patio
Custom limestone fireplace
Large cutouts between Great Room & Dining Room
Dining Room
Floor to ceiling windows
Hand-stenciled wood flooring
Light fixture custom-designed by Jean Royere
Gourmet Kitchen
Custom pearwood cabinetry
Black granite countertops
Contemporary chandelier by David Estreich
Three sinks
Thermador dual-fuel range with two ovens
Sub-Zero 42" side-by-side refrigerator/freezer
Two Miele dishwashers
Two Thermador wall ovens
Butler's Pantry
Matching cabinetry
Large sink
Ice Maker
Floor-to-ceiling Northland wine refrigerator
Bedroom 3
Large closet
Wall to wall carpeting
Nearby full bath with shower
Garage
Oversized 2-car
Abundant storage space
Rear Gallery
Expansive walls for large canvas paintings or sculptures
French doors to rear patio
Bedroom 2
Two large closets
Wall-to-wall carpeting
En-suite bath with shower
Formal Powder Room
Circular bands of sycamore contrasted with black reveals
Designer fixtures
Custom lighting
Primary Bedroom Suite
Walls of windows
Accent ceiling with uplighting
Custom wall treatments
Primary Bedroom Suite Baths
Bath 1: large shower with custom vanity and designer fixtures
Bath 2: Expansive circular shape with cured walls, mother-of-pearl inlaid flooring, soaking tub and walk-in shower
Primary Bedroom Suite Closets
Closet 1: Large with built-in storage cabinetry for clothing and shoes
Closet 2: Large with built-in storage cabinetry for clothing, shoes and jewelry - Offers two entrances (one directly into bath)
SECOND FLOOR
Bedroom 4
Wall-to-wall carpeting
Two large closets
Wall of windows with views of grounds
Bedroom 5
Wall-to-wall carpeting
Two large closets
Two walls of windows with views of grounds
Expansive Bath
Two vanities
Designer tiles and hardware
Bathtub and walk-in shower
Storage Room
Large storage room with multiple closets for off-season clothing storage
Loft
Built-in book storage shelves
Wall of windows with views of grounds
Designer light fixture
LOWER LEVEL
Wall to wall carpeting
Multiple storage rooms with built-in shelving
French door to rear patio
Bedroom 6
Large closet
Reach-in closet
Nearby full bath with walk-in shower
Systems
Radiant Heating Throughout: Zone 1: Great Room | Zone 2: Foyer & Hall | Zone 3: Family Room | Zone 4: First Floor Guest Bedroom | Zone 5: First Floor Exercise Room/Bedroom near Kitchen | Zone 6: "His" Primary Bedroom Bath | Zone 7: Primary Bedroom Suite | Zone 8: Primary Bedroom Suite Hall | Zone 9: Rear Hall & Laundry Room | Zone 10: Kitchen | Zone 11: Second Floor Bath | Zone 12: Second Floor Left Bedroom | Zone 13: Second Floor Right Bedroom | Zone 14: Back Basement | Zone 15: Center Basement | Zone 16: Front Basement
Two Slant/Fin boilers
Two 75 gallon indirect fired water tanks by Triangle Tube
Central vacuum system
Whole-house natural gas generator by Cummins
Lutron HomeWorks lighting
Phone and intercom system
State-of-the-art security system with motion detectors, glass break sensors and surveillance cameras
LANDSCAPING
Lush, mature specimen plantings throughout entire property
Irrigation system with sprinkler heads for lawn and planting beds
EXCLUSIONS
---
*The information above is deemed to be accurate but is not guaranteed and is subject to change.