New List Reveals NJ School Districts With Best Teachers In 2018
Posted by Cristian Perez on Saturday, March 10, 2018 at 3:39 PM
By Cristian Perez / March 10, 2018
Comment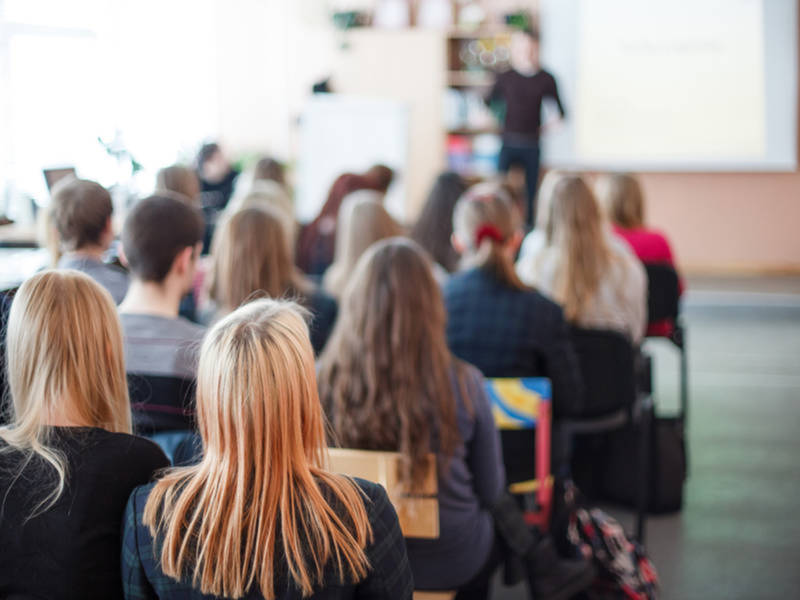 Now's a good time to find out how your local teachers stack up against others — especially if you're sending your children to school for the first time.
Niche.com has recently released its annual rankings of the 100 New Jersey school districts with the best teachers. According to Niche, the best teachers in New Jersey are at West Essex Regional School District in North Caldwell, which also finished in 22nd place nationwide.
The ranking was based on student and parent ratings of teachers, teacher salaries, teacher absenteeism, teacher tenure, student-teacher ratio and the Niche Academics Grade for the district. Read more on how this ranking was calculated.
According to Niche, these are the 100 school districts with the best teachers in New Jersey (nationally ranked in top 100 is in parenthesis):
West Essex Regional School District, North Caldwell (#22 nationally)
Millburn Township Schools, Millburn (#23 nationally)
Glen Ridge Public Schools, Glen Ridge (#59 nationally)
Princeton Public Schools, Princeton (#62 nationally)
Mountain Lakes School District, Mountain Lakes (#72 nationally)
Berkeley Heights Public Schools, Berkeley Heights (#91 nationally)
The School District of the Chathams, Chatham (#93 nationally)
West Windsor-Plainsboro Regional School District, West Windsor
Montclair Public Schools, Montclair
Pompton Lakes School District, Pompton Lakes
Northern Valley Regional High School District, Demarest
Somerset Hills Regional School District, Bernardsville
Ridgewood Public Schools, Ridgewood
Haddonfield Public Schools, Haddonfield
Verona Public Schools, Verona
West Morris Regional High School District, Chester
Livingston Public Schools, Livingston
Pascack Valley Regional High School District, Montvale
Summit Public Schools, Summit
Bernards Township School District, Basking Ridge
Fair Lawn School District, Fair Lawn
North Hunterdon-Voorhees Regional High School District, Annandale
Glen Rock Board of Education, Glen Rock
Morris School District, Morristown
Scotch Plains-Fanwood School District, Scotch Plains
Freehold Regional High School District, Englishtown
East Brunswick Public Schools, East Brunswick
Cranford Public School District, Cranford
Upper Freehold Regional School District, Allentown
Moorestown Township Public School District, Moorestown
Point Pleasant Beach Board of Education, Point Pleasant Beach
Westfield Public Schools, Westfield
Kinnelon Board of Education, Kinnelon
River Dell Regional School District, River Edge
Edison Township Public Schools, Edison
Holmdel Township School District, Holmdel
Piscataway Township Schools, Piscataway
Tenafly Public Schools, Tenafly
South Brunswick Public Schools,South Brunswick
Monroe Township School District, Monroe Township
Hopewell Valley Regional School District, Pennington
Morris Hills Regional School District, Denville
Weehawken Board of Education, Weehawken
Park Ridge Public Schools, Park Ridge
Caldwell-West Caldwell Public Schools, West Caldwell
Ramsey Public Schools, Ramsey
Middletown Township Public Schools, Leonardo
Hillsborough Township Public School District, Hillsborough
Audubon Public Schools, Audubon
Matawan-Aberdeen Regional School District, Aberdeen
Lenape Regional High School District, Shamong
Leonia Public Schools, Leonia
Bergenfield Borough School District, Bergenfield
Westwood Regional School District, Washington Township
South Orange-Maplewood School District, Maplewood
Woodstown-Pilesgrove Regional School District, Woodstown
New Providence School District, New Providence
Delsea Regional High School District, Franklinville
Randolph Township Schools, Randolph
Cedar Grove Township School District, Cedar Grove
Washington Township Public Schools, Sewell
Cinnaminson Township Public Schools, Cinnaminson
Central Regional School District, Bayville
Parsippany-Troy Hills Township Schools, Parsippany
Rancocas Valley Regional High School District, Mount Holly
Hanover Park Regional High School District, East Hanover
Haddon Heights Public Schools, Haddon Heights
Rutherford Public Schools, Rutherford
Northern Burlington County Regional School District, Columbus
Dumont Board of Education, Dumont
Mahwah Township Public Schools, Mahwah,
Montville Township School District, Montville
Jackson Township School District, Jackson
Old Bridge Township School District, Old Bridge
Madison Public Schools, Madison
Bloomfield Board of Education, Bloomfield
Wayne Township Public Schools, Wayne
New Milford School District, New Milford
Cherry Hill Public Schools, Cherry Hill
Sparta Township Public Schools, Sparta
Hackettstown Public Schools, Hackettstown
Springfield Public Schools, Springfield,
Lawrence Township Public Schools, Lawrenceville
Hackensack School District, Hackensack
West Orange Public Schools, West Orange
Ocean City School District, Ocean City
Egg Harbor Township School District, Egg Harbor Township
Emerson Public Schools, Emerson
Highland Park Board of Education, Highland Park
Hasbrouck Heights Board of Education, Hasbrouck Heights
Robbinsville Public Schools, Robbinsville
Metuchen Public Schools, Metuchen
North Brunswick Township Public Schools, North Brunswick
Montgomery Township School District, Skillman
Woodbridge Township School District, Woodbridge
Newton Public Schools, Newton
Midland Park Public Schools, Midland Park
Point Pleasant Boro Board of Education, Point Pleasant Boro
Ridgefield Public Schools, Ridgefield
Lower Cape May Regional School District, Cape May
If you would like to receive the full list of the 2017 US News & World Report high school rankings, please contact the New Jersey Luxury Real Estate Group™ for more information at 973-477-2220 or info@njlre.com.
Article Excerpt From: https://patch.com/new-jersey/millburn/s/gdbpv/new-list-reveals-nj-school-districts-with-best-teachers-in-2018